Foodback launches single Covid-19 check-in menu and feedback QR code for restaurant trade
Foodback has just launched Foodback Portal & Check-In, a new solution for the restaurant trade allowing diners to check-in, look at and order from the menu, and rate their meal.
One QR code on arrival lets diners:
perform coronavirus check-in
read, and order from, the menu
Restaurant customers can now make a Covid-19 check-in, read menus, order meals and give feedback all through one QR scan with their mobile phones, thanks to digital diner interaction provider Foodback.
Many countries currently require diners to register upon arrival at a restaurant or hotel for coronavirus tracing. The quickest way is for customers to scan a QR code on their mobile.
Restaurants and hotel are also increasingly using QR codes for a range of other customer interactions. But until now they have needed to provide one QR code for Covid-19 check-in and at least one more QR code for the other digital services. The brand new Foodback Portal combines all these interactions through a single QR scan that generates a landing page on the customer's phone.
Until now, restaurants have needed multiple QR codes to meet their Covid-19 obligations on top of their other mobile services for diners. A single QR portal makes the experience simpler, faster and more effective for customer and restaurant alike. The launch of Foodback Portal is the latest step in our evolution beyond an insightful diner feedback tool to a full digital customer interaction and analytics service for restaurants.
Foodback Portal is fully customisable. Restaurants can display menus directly or create a seamless link to any self-service ordering app or website they already use. Other useful links can also be connected, such as a description of the restaurant or links to taxi services.
When the meal finishes, the same landing page lets diners rate and comment on their experience, creating valuable direct feedback for the restaurant. In addition to normal questions about quality of food and service, Foodback now also includes optional questions about how well the restaurant followed Covid-19 hygiene measures.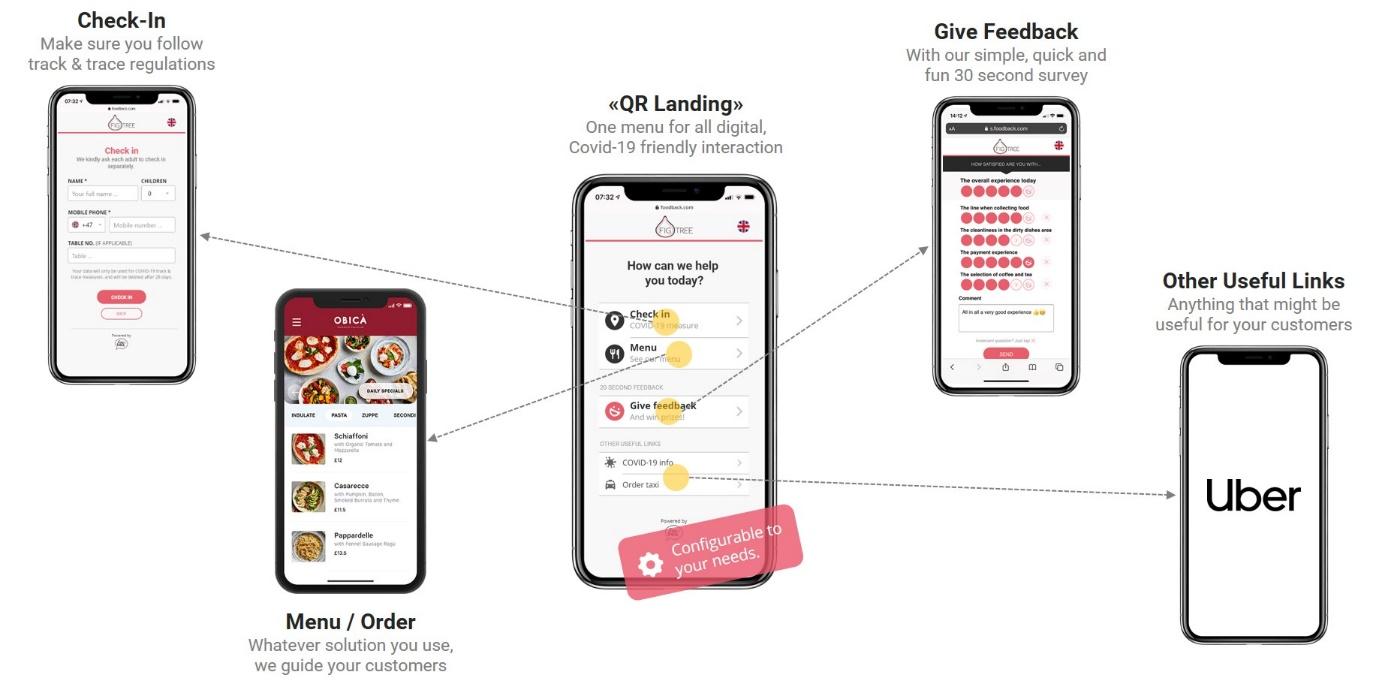 Daniel is the Chief Product & Technology Officer and Co-Founder at Foodback, running a small but productive development team of eight people. He is passionate about creating great user experiences that truly make a difference for customers. Outside the office, Daniel enjoys most of his time with his wife and 3 kids, where he is the Head Chef. His latest toy is an Italian pizza oven from Ooni. Whatever time is left over he spends watching Liverpool, trying to stay in shape, and socializing.
Foodback is a rapidly growing scale-up in the food tech sector. Our goal is to unlock insight and identify hidden business opportunities for our customers. Today, we provide a world-leading feedback solution for the food and beverage industry, working continuously to innovate and improve.
Recent blog articles from Foodback
5 Key Take Aways from UMAMI Arena 2023 In 1976, Apple launched their legendary Apple I, made in the garage of Steve Jobs' family home in Los Altos, California. In 2014, we here at Foodback had our...
read more